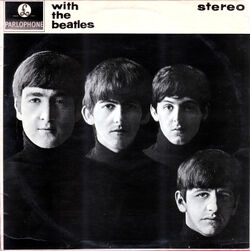 "You Really Gotta Hold on Me" is a cover song by The Beatles. It has been released in various forms of media.
Recording/Influence
Edit
"You Really Gotta Hold on Me" was written by Smokey Robinson. The Beatles recorded the song on July 18, 1963. This session took place while Please Please Me was still at number one in the album charts four months after its release, and in the midst of a rigorous touring schedule that also had to include BBC sessions for radio and television. It was completed in seven takes, four of which were complete. The group then recorded four edit pieces. The final version was an edit of takes 7, 10 and 11. In the fall of 1963, when EMI acquired their first four track recording equipment, the Beatles recorded another version of the song at Lennon's request, perhaps with the intent of including it as a B-side to an upcoming single, or as part of a four song EP. However, the group concluded that in spite of the enhanced recording technology, the new version was not substantially better than their original studio effort, and the remade cover has yet to be officially released in any form.
Ad blocker interference detected!
Wikia is a free-to-use site that makes money from advertising. We have a modified experience for viewers using ad blockers

Wikia is not accessible if you've made further modifications. Remove the custom ad blocker rule(s) and the page will load as expected.