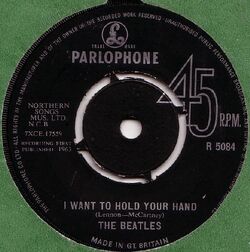 "I Want to Hold Your Hand" is a original song by The Beatles. It has been released in various forms of media.
Recording/Influence
Edit
"I Want to Hold Your Hand" was written by Lennon-McCartney. The Beatles started recording "I Want to Hold Your Hand" at EMI Studios in Studio 2 on 17 October 1963. This song, along with the single's flip side, "This Boy", was the first Beatles song to be recorded with four-track technology. The two songs were recorded on the same day, and each needed seventeen takes to complete. "I Want to Hold Your Hand" was one of two Beatles songs (along with "She Loves You" as "Sie Liebt Dich") to be later recorded in German, entitled "Komm, Gib Mir Deine Hand".
Ad blocker interference detected!
Wikia is a free-to-use site that makes money from advertising. We have a modified experience for viewers using ad blockers

Wikia is not accessible if you've made further modifications. Remove the custom ad blocker rule(s) and the page will load as expected.