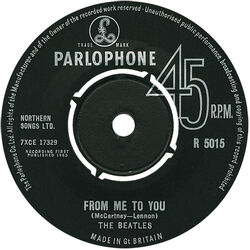 "From Me to You" is a original song by The Beatles. It has been released in various forms of media.
Recording/Influence
Edit
"From Me to You" composed principally by John Lennon and Paul McCartney. Lennon and McCartney began writing "From Me to You" while on a coach heading to Shrewsbury as part of the Beatles' tour with Helen Shapiro. The title was inspired by the name of the letters section of the New Musical Express, which they had been reading: "From You to Us". The recording on 5 March 1963 at Abbey Road Studios went without a hitch and on 11 April Parlophone released "From Me to You" in the UK as a single, with "Thank You Girl" on the B-side, catalogue number R5015. The idea of singing the song's opening lick—the "da da da da da dum dum da" part—was suggested by George Martin, the Beatles' producer.
Ad blocker interference detected!
Wikia is a free-to-use site that makes money from advertising. We have a modified experience for viewers using ad blockers

Wikia is not accessible if you've made further modifications. Remove the custom ad blocker rule(s) and the page will load as expected.