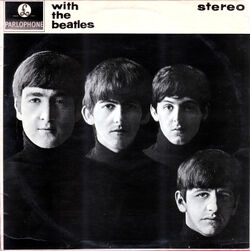 "All My Loving" is a original song by The Beatles. It has been released in various forms of media.
Recording/Influence
Edit
"All My Loving" was written by Lennon-McCartney. The Beatles recorded the song on 30 July 1963 in eleven takes with three overdubs. The master take was take fourteen overdubbed on take eleven. It was remixed on 21 August (mono) and 29 October (stereo). A slightly longer stereo edition of the song, featuring a hi-hat percussion introduction not found on the common stereo or mono mixes was released in Germany and the Netherlands in 1965 on a compilation album entitled Beatles' Greatest.
Ad blocker interference detected!
Wikia is a free-to-use site that makes money from advertising. We have a modified experience for viewers using ad blockers

Wikia is not accessible if you've made further modifications. Remove the custom ad blocker rule(s) and the page will load as expected.